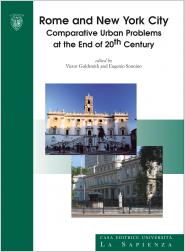 Comparative Urban Problems at the End of 20th Century
Il volume contiene gli atti dei Seminari "Rome-New Yok: Urban Problems and Shared Solutions for the First Decade of the Next Millenium" (New York, 21-25 giugno 1999) e "Rome-New York City: Comparative Urbans Projects" (Roma, 19-23 giugno 2000).
Di quest'opera va evidenziata l'approfondita ed articolata analisi comparativa dell'attuale realtà di Roma e New York, sia sotto il profilo urbanistico, ambientale e sanitario, sia sotto il profilo sociale e culturale. Ciò è stato reso possibile dalla partecipazione al progetto editoriale di un folto gruppo di studiosi italiani e americani di diversa formazione: politologi, sociologi, demografi, geografi, chimici, ingegneri, urbanisti, storici e medici del lavoro.
Per favorirne la diffusione in ambito internazionale l'opera è stata pubblicata in lingua inglese.
QUESTO LIBRO E' CONSULTABILE PRESSO LA BIBLIOTECA DEL CONGRESSO, WASHINGTON DC,  AL NUMERO DI INVENTARIO: HT178.I82 R6567 2006  _ PERMALINK: http://lccn.loc.gov/2008351628
Also available in eBook PDF format (ISBN 9788887242874) on Torrossa Online Digital Bookstore (Casalini Libri)
- Buy it on Torrossa Online Digital Bookstore