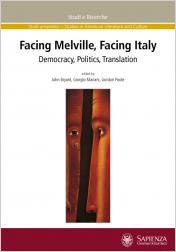 Democracy, Politics, Translation
Serie:
Studies in American Literature and Culture
When Herman Melville did his seven-month tour of Greece, the Near-East, and Western Europe in 1856-1857, Italy, although still a 'geographical expression,' was resurging politically in its centuries-old yearning for unity and freedom. Perhaps there was no global traveler more cosmopolitan than Melville or more artistically sensitive to the peninsula's political unrest and aspirations.He perceived the scenes, sounds, gestures, peoples, usages, and languages of Italy, Palestine, and the other countries he visited with a sensitivity honed by his early experience of proletarian shipboard multi-ethnicity and his immersion in the cultural diversities of the South Seas islands. His cosmopolitanism was seized upon by Cesare Pavese, who translated Moby-Dick and "Benito Cereno" into Italian, as what he may have seen as a fresh alternative to the stultifying nationalism of Fascism. The essays in the present volume are a selection from the Melville Society's 8th International Conference, held in Rome in June 2011. Cosmopolitan in their authorship and themes, they offer new insights and background for better understanding Melville's importance as a herald of global concerns that are very much with us still today.
Acquistabile anche in versione cartacea in modalità print on demand su Amazon US, Amazon UK, Amazon DE, Amazon IT, Amazon FR, Amazon ES, StreeLib Store.