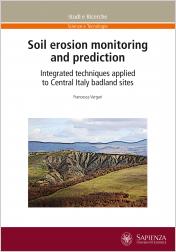 Integrated techniques applied to Central Italy badland sites
Winner of the Competition "Prize for PhD thesis 2014"
Soil erosion affects the Mediterranean region, producing soil loss and degradation, landsliding, economic damages and hazard conditions. Water erosion is pervasive in Central Italy, where "denudation hot spots" are widespread as a result of extensive clayey outcrops, Mediterranean climatic conditions and rapid Quaternary uplift. Key sites characterized by very high cultural, naturalistic and scenery value are present in these areas, such as the Val d'Orcia Unesco Heritage site in Southern Tuscany, that result dramatically exposed to geomorphological hazard, being intensely exploited for agriculture and touris. In these sites, calanchi and biancane badlands, or, on overworked lands, ephemeral gullies and shallow landslides quickly develop and are able to influence the overall erosion rates at catchment scale.
The investigations described in this book allowed to define an integrated methodology for estimation of denudation intensity and the prevision of geomorphological hazard, with a particular focus on areas greatly affected by badlands.
The method is based on quantitative geomorphic analysis, multivariate statistical investigations and field monitoring of erosion intensity, in order to better define the relationships between the main denudation effects and the potential causal factors favoring geomorphological instability.