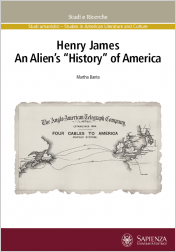 Serie:
Studies in American Literature and Culture
Martha Banta's Henry James: An Alien's "History" of America is the product of a lifetime of thinking about James and his odd, but oddly productive, relation to the land of his birth. A "biography" of an "autobiography," it serves as a peripatetic history of the central cross-currents and intersections between Europe and America, memory and history, romance and realism. These diverse elements structure James's channeling of his own experience as a displaced or "alienated" American into a variety of genres: memoirs and travel writing, novels and tales, letters and literary criticism, social and cultural commentary. Together they constitute the "never completed novel" of his ongoing "autobiographical" project. 
In its masterful weaving together of materials, text, and time-frames, Henry James: An Alien's "History" of America moves fluidly back and forth over the intricate tapestry of James's life and texts. It identifies and analyzes key moments, words, and tropes that echo across the years, tracing the instances of repetition, reversal, self-revelation, and re-vision that underwrite this "life-record." This study represents a major advance over conventional, sometimes oversimplified readings of James's "international theme." His attitudes about both Europe and America emerge here in their full complexity and contradictoriness. 
The breadth and depth of Banta's knowledge of James and of the historical America from which he emerged and which he never ceased to engage, however ambivalently, will make this a rich reading experience for general readers as well as scholars.
David McWhirter
editor of Henry James's New York Edition: The Construction of Authorship and Henry James in Context.
PRESTO disponibile anche in eBook formato ePub/Kindle (ISBN 9788898533800) su Torrossa Online Digital Bookstore (Casalini Libri) a 15,99 €