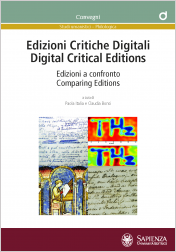 Edizioni a confronto. Comparing Editions
FREE VERSION DOWNLOAD 
Open access work licensed to the public under a Creative Commons Attribution 3.0 Italia license (CC BY-NC-ND).
Opera diffusa in modalità open access e sottoposta a licenza Creative Commons Attribuzione – Non commerciale - Non opere derivate (CC BY-NC-ND), 3.0 Italia
Sono sempre più numerosi i progetti di Edizioni Critiche Digitali che permettono di studiare, per mezzo di sistemi open source, il processo di genesi ed evoluzione delle opere attraverso la rappresentazione e interpretazione delle varianti d'autore. Il Seminario Internazionale ECD/DCE Edizioni a confronto/Comparing editions – organizzato nell'ambito del Progetto multidisciplinare THESMA (Sapienza Ricerca 2014) – ha riunito i maggiori esperti in Italia e in Europa di DH per presentare alla comunità scientifica internazionale i principali modelli di edizioni critiche digitali realizzati sulle opere di grandi autori italiani ed europei, da Leopardi a Gadda, da Jane Austen a Proust, da Nietzsche a Pessoa. 

There is an increasing number of Digital Critical Editions which clarify, by means of open source systems, the genetic process and the evolution of literary works. This has been achieved by representing and interpreting the author's variants. The International Conference ECD/DCE Edizioni a confronto/Comparing Editions – organised within multidiscipinar THESMA PROJECT (Sapienza Research 2014) – has shown to the scientific community the main models of digital critical editions, produced at national and international levels, on the works by important Italian and European writers, from Leopardi to Gadda, Jane Austen to Proust, Nietzsche to Pessoa.
eBook disponibile anche su Google Play, Google Libri, MLOL
DOI:
https://doi.org/10.13133/9788893770033