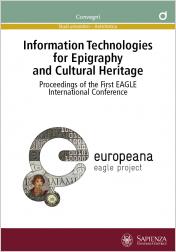 Proceedings of the First EAGLE International Conference
FREE VERSION DOWNLOAD
Open access work licensed to the public under a Creative Commons Attribution 3.0 Italia license (CC BY-NC-ND).
Opera diffusa in modalità open access e sottoposta a licenza Creative Commons Attribuzione – Non commerciale - Non opere derivate (CC BY-NC-ND), 3.0 Italia
This peer-reviewed volume contains selected papers from the First EAGLE International Conference on Information Technologies for Epigraphy and Cultural Heritage, held in Paris between September 29 and October 1, 2014.
Here are assembled for the first time in a unique volume contributions regarding all aspects of Digital Epigraphy: Models, Vocabularies, Translations, User Engagements, Image Analysis, 3D methodologies, and ongoing projects at the cutting edge of digital humanities.
The scope of this book is not limited to Greek and Latin epigraphy; it provides an overview of projects related to all epigraphic inquiry and its related communities.
This approach intends to furnish the reader with the broadest possible perspective of the discipline, while at the same time giving due attention to the specifics of unique issues.
eBook disponibile anche su Google Play, Google Libri, MLOL
DOI:
https://doi.org/10.13133/978-88-98533-42-8