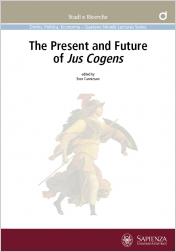 Collezione:
Diritto, Politica, Economia
Serie:
Gaetano Morelli Lectures Series
FREE VERSION DOWNLOAD 
Open access work licensed to the public under a Creative Commons Attribution 3.0 Italia license (CC BY-NC-ND).
Opera diffusa in modalità open access e sottoposta a licenza Creative Commons Attribuzione – Non commerciale - Non opere derivate (CC BY-NC-ND), 3.0 Italia
This book gathers the contributions presented to the first edition of the Gaetano Morelli Lectures, held in the Spring of 2014 on "the Present and Future of Jus Cogens". The first two Chapters reproduce the two general courses by Christian Tomuschat and by Pierre-Marie Dupuy. Two short Chapters, by Enzo Cannizzaro and by Beatrice Bonafé, address topics dealt with in the final seminar class.
eBook disponibile anche su Google Play, Google Libri, MLOL
DOI:
https://doi.org/10.13133/978-88-98533-65-7