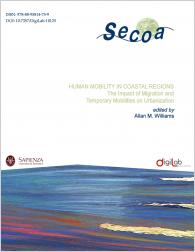 The Impact of Migration and Temporary Mobilities on Urbanization
FREE VERSION DOWNLOAD
Open access work licensed to the public under a Creative Commons Attribution 3.0 Italia license (CC BY-NC-ND).
Opera diffusa in modalità open access e sottoposta a licenza Creative Commons Attribuzione – Non commerciale - Non opere derivate (CC BY-NC-ND), 3.0 Italia
The broad aim of this book is to examine human mobility-urbanization relationships as the unit of analysis within the framework of the natural environment of the coastal areas with a focus on unfolding major conflict categories/themes. The book does not address the question of how urbanization shapes mobility: this lies outside the project specification that this book is based on, as approved by the EU. Therefore, the analysis of how different urban forms, such as the compact city, shape mobility are not considered here. Instead, the book has four specific research objectives that structure this overview chapter and the national case studies presented in the remainder of the book. 
I. To analyze the relationships between migration and urban change. 
II. To analyze the spatial and temporal balance between permanent versus temporary populations in the core v ring v coastal zone.
III. To analyse how human mobility shapes key aspects of urbanization.
IV. To consider the main human-environmental conflicts resulting from human mobility.
The final section reflects on the implications for human-environmental conflicts of the changing relationship between mobility and urbanization in the case studies.
eBook disponibile anche su Google Play,  Google Libri, MLOL