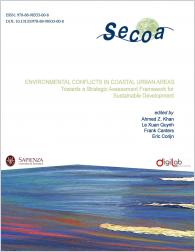 Towards a Strategic Assessment Framework for Sustainable Development
FREE VERSION DOWNLOAD
Open access work licensed to the public under a Creative Commons Attribution 3.0 Italia license (CC BY-NC-ND).
Opera diffusa in modalità open access e sottoposta a licenza Creative Commons Attribuzione – Non commerciale - Non opere derivate (CC BY-NC-ND), 3.0 Italia
In-depth analyses of the twenty-six environmental conflict cases (chapters 2 till 9) from seventeen coastal metropolitan areas of eight different European and non-European countries have been presented in this volume. Framed by their meta-analyses (chapter 1), our underlying concern has been clearly to advance the assessment of environmental conflicts as a strategic approach for addressing and unfolding sustainable development in the coastal areas. In this regard, our main objective has been to develop diagnostic and analytical capabilities through developing an environmental conflict assessment framework that is based on an indepth interdisciplinary understanding and analysis of the nature of these conflicts. As a way of formulating conclusions about these concern and objective, we first present our understanding of environmental conflicts that has been advanced as socio-ecological constructions that are complex adaptive systems. In a next step, we bring together the methodological insights unfolded through the meta-analyses of all the cases in sketching out a strategic framework for their assessment. This is followed by highlighting the diagnostic, analytical and strategic capacities of this framework towards the end of the conclusions.
eBook disponibile anche su Google Play, Google Libri, MLOL
DOI:
http://dx.doi.org/10.13133/978-88-98533-00-8