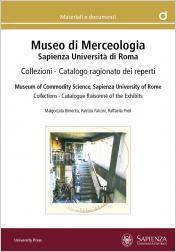 Collezioni - Catalogo ragionato dei reperti / Collections - Catalogue Raisonné of the Exhibits
FREE VERSION DOWNLOAD 
Open access work licensed to the public under a Creative Commons Attribution 3.0 Italia license (CC BY-NC-ND).
Opera diffusa in modalità open access e sottoposta a licenza Creative Commons Attribuzione – Non commerciale - Non opere derivate (CC BY-NC-ND), 3.0 Italia.
Il catalogo illustra i settori ai quali appartengono circa 6000 reperti esposti e inventariati al Museo di Merceologia. Le sezioni del Museo descritte e indicate con dei colori differenti sono le seguenti: legno, carta, combustibili, plastomeri ed elastomeri, cosmesi, detergenti, metalli e leghe, minerali, materiali da costruzione, ceramiche, vetro, concia e prodotti della concia, coloranti,inchiostri, fibre tessili e tessuti, alimenti e derivati, prodotti del mare, tabacco, apparecchi scientifici. La collezione dei reperti è organizzata in una esposizione "ragionata" sulla base delle varie attività economiche e commerciali, al fine di consentire al visitatore la comprensione completa dei procedimenti tecnologici attraverso i quali si realizzano i prodotti finiti a partire dalle materie grezze. L'esposizione, inoltre, evidenzia la continua ricerca di nuove materie prime, in sostituzione di altre, perché esaurite o non più economicamente sfruttabili, illustrando anche le fasi relative alla loro lavorazione al fine di ottenere un nuovo prodotto tecnologicamente avanzato o/e eco-compatibile.
DOI:
https://doi.org/10.13133/9788893770477