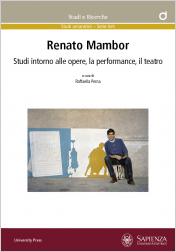 Studi intorno alle opere, la performance, il teatro
FREE VERSION DOWNLOAD 
Open access work licensed to the public under a Creative Commons Attribution 3.0 Italia license (CC BY-NC-ND).
Opera diffusa in modalità open access e sottoposta a licenza Creative Commons Attribuzione – Non commerciale - Non opere derivate (CC BY-NC-ND), 3.0 Italia.
Il libro intende documentare, in maniera organica, le diverse fasi del percorso artistico di Renato Mambor (1936-2014): dalle serie d'esordio – i monocromi, i Timbri e i Ricalchi – alle performance e all'attività teatrale, sino al ritorno alla pittura degli anni Novanta e Duemila. Sulla base di fonti e documenti talora inediti, il volume affronta la ricerca sperimentale di Mambor nel suo complesso, alla luce del contesto artistico e culturale italiano della seconda metà del XX secolo, con particolare attenzione agli aspetti più radicali e innovativi del suo lavoro.
This book intend to document, comprehensively, the different phases of Renato Mambor's artistic career: from the first series – the monochrome works, Timbri and Ricalchi – to the performances and theatrical activity, and to the return to painting in the 1990s and 2000s. On the basis of documents and sources, some of which unpublished, the book addresses the experimental research carried out by Mambor as a whole, in the light of the artistic and cultural context of the second half of the 20th century, with particular attention to the most radical and innovative aspects of his work.
eBook disponibile anche su Google Play, Google Libri, MLOL
DOI:
https://doi.org/10.13133/9788893770521