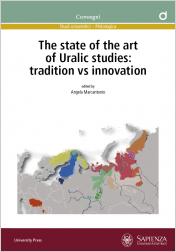 FREE VERSION DOWNLOAD
Open access work licensed to the public under a Creative Commons Attribution 3.0 Italia license (CC BY-NC-ND).
Opera diffusa in modalità open access e sottoposta a licenza Creative Commons Attribuzione – Non commerciale - Non opere derivate (CC BY-NC-ND), 3.0 Italia.
This volume contains the Proceedings of the 'Uralic Studies' Seminar: The State of the Art of Uralic Studies: Tradition vs Innovation, held in Padua (Italy), November 12-13, 2016. The seminar was organized by the Department of 'Studi Linguistici e Letterari' of Padua University and the 'Facoltà di Lettere e Filosofia' of Sapienza University of Rome. The aim of the seminar, and of this volume, was / is to bring together linguists working on the Uralic languages from different perspectives, with the purpose of increasing the exchange of ideas and fostering mutual influences on each other field and methods of analysis. In addition to presenting the current 'state of the art of Uralic studies' – for specialists, general linguists and general public – the volume also addresses some issues related to the so-called 'Ural-Altaic theory', nowadays often referred to as the 'Ural-Altaic linguistic belt, unique typological belt'. The contributors to the volume are renown scholars of Uralic, and also Altaic languages, from various European universities, such as Moscow, Helsinki, Paris, Budapest etc.
eBook disponibile anche su Google Play, Google Libri, MLOL
DOI:
https://doi.org/10.13133/9788893770668