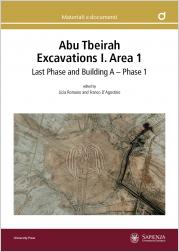 Last Phase and Building A – Phase 1
FREE VERSION DOWNLOAD 
Open access work licensed to the public under a Creative Commons Attribution 3.0 Italia license (CC BY-NC-ND).
Opera diffusa in modalità open access e sottoposta a licenza Creative Commons Attribuzione – Non commerciale - Non opere derivate (CC BY-NC-ND), 3.0 Italia.
This book presents the results of the archaeological activities and specialistic studies carried out at the site of Abu Tbeirah (Nasiriyah, Province of Dhi Qar, southern Iraq) by the Iraqi-Italian joint mission of the Iraqi State Board of Antiquities and Heritage and of Sapienza, led by F. D'Agostino and L. Romano (Dipartimento – Istituto Italiano di Studi Orientali). In the volume the accomplishments of the first seven campaigns (2011-2016) are introduced together with an assessment of the palaeo-environment and landscape surrounding the site. After an introduction to the reasons that led to start the archaeological activities in Abu Tbeirah, written by HE Dr A. Al-Hamdani, Minister of Culture of the Republic of Iraq, the diggings in the south-eastern Area 1 are presented (the cemetery and the other activities identified immediately under the top-soil and the last phase of Building A). A preliminary assessment on the Early-Dynastic III/Akkadian Transition pottery horizon (2450-2150 BC) is presented as well. At the same time, the multifaceted analyses and studies, carried out on Abu Tbeirah's site and findings, are included in the volume.
eBook disponibile anche su Google Play, Google Libri, MLOL
DOI:
https://doi.org/10.13133/9788893771085