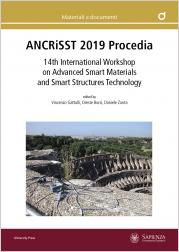 14th International Workshop on Advanced Smart Materials and Smart Structures Technology
FREE VERSION DOWNLOAD 
Open access work licensed to the public under a Creative Commons Attribution 3.0 Italia license (CC BY-NC-ND).
Opera diffusa in modalità open access e sottoposta a licenza Creative Commons Attribuzione – Non commerciale - Non opere derivate (CC BY-NC-ND), 3.0 Italia.
ANCRiSST 2019 Workshop, held in Rome on 18-21 July 2019, manifests a close collaboration between Europe, Asia and the Americas in the field of smart structures and materials. A year after the tragic collapse of the Morandi bridge in Genova and shortly after its demolition, the scientific discussion on novel solutions in structural health monitoring and control from an outstanding international scientific community is the catalyst for future headway in this field.
The ANCRiSST 2019 Procedia expresses current progress in smart materials and structures technology and is witness to ever growing international synergies among researchers. Emerging frontiers in automated inspection, sensing and control of civil infrastructure are focussed on. Six sections gather together contributions in smart materials for sensing and actuation, response prediction and evaluation, measurements and health monitoring, structural control, damage detection, mechatronics and automated inspection.
eBook disponibile anche su Google Libri, Google play, MLOL
DOI:
https://doi.org/10.13133/9788893771146