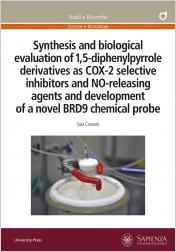 FREE VERSION DOWNLOAD 
Work published in open access mode and licensed under Creative Commons Attribution – NonCommercial – NoDerivatives 3.0 Italy (CC BY-NC-ND 3.0 IT).
Opera diffusa in modalità open access e sottoposta a licenza Creative Commons Attribuzione – Non commerciale - Non opere derivate (CC BY-NC-ND), 3.0 Italia.
Winner of the Competition "Prize for PhD Thesis 2016"
arranged by Sapienza University Press.
This PhD thesis consists of three projects: the first and the second ones, carried out at Sapienza University of Rome, deal with the design and synthesis of novel COX-2 selective inhibitors and dual COX-2 inhibitors/NO-releasing agents, respectively. The third project concerns the development of a novel BRD9 chemical probe and was realized at the University of Oxford (Department of Chemistry).
eBook disponibile anche su Google Play, Google Libri, MLOL
DOI:
https://doi.org/10.13133/9788893771375