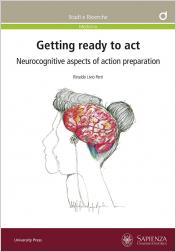 Neurocognitive aspects of action preparation
FREE VERSION DOWNLOAD 
Work published in open access mode and licensed under Creative Commons Attribution – NonCommercial – NoDerivatives 3.0 Italy (CC BY-NC-ND 3.0 IT).
Opera diffusa in modalità open access e sottoposta a licenza Creative Commons Attribuzione – Non commerciale - Non opere derivate (CC BY-NC-ND), 3.0 Italia.
Winner of the Competition "Prize for PhD Thesis 2016"
arranged by Sapienza University Press.
The topic of proactivity of brain functions has become of growing interest in the cognitive neuroscience. Brain activity is no longer described solely in a reactive way, but also as preparatory and predictive of future events. This volume focuses especially on the neurocognitive activities associated with anticipatory processes of perceptual decision-making. What does the brain do to prevent mistakes? Is it possible to prevent speed and accuracy of a decision even before it is made? Why do some people perform better or worse than others? The volume answers these and other questions through the description of some original research. In particular, electroencephalographic investigations are illustrated which allowed to define a first version of the model known as "preparation-perception-action cycle". Present findings reveal theoretical and practical implications which constitute a useful reference for researchers and scholars interested in discovering the aware and unaware ways in which our brain anticipates the future.
eBook disponibile anche su Google Play, Google Libri, MLOL
DOI:
https://doi.org/10.13133/9788893771382