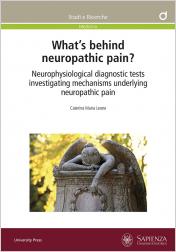 Neurophysiological diagnostic tests investigating mechanisms underlying neuropathic pain
FREE VERSION DOWNLOAD 
Work published in open access mode and licensed under Creative Commons Attribution – NonCommercial – NoDerivatives 3.0 Italy (CC BY-NC-ND 3.0 IT).
Opera diffusa in modalità open access e sottoposta a licenza Creative Commons Attribuzione – Non commerciale - Non opere derivate (CC BY-NC-ND), 3.0 Italia.
Winner of the Competition "Prize for PhD Thesis 2016"
arranged by Sapienza University Press.
Neuropathic pain is a common problem in clinical practice, which affects patients quality of life. The more recent approach to this peculiar type of pain is based on the "sensory profiles theory". According to this theory, neuropathic pain manifests with different combinations of sensory abnormalities, which in turn arise through different pathophysiological mechanisms. Convincing evidence now suggests that the classification of neuropathic pain according to a mechanism-based approach rather than etiology could help in targeting the therapy for the individual patient and would be useful for testing new drugs. My work has therefore focused on disclosing the pathophysiological mechanisms underlying neuropathic pain and how they translate into symptoms.
eBook disponibile anche su Google Play, Google Libri, MLOL
DOI:
https://doi.org/10.13133/9788893771368