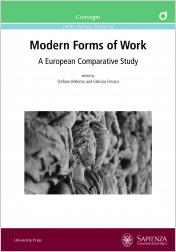 A European Comparative Study
Collezione:
Diritto, Politica, Economia
FREE VERSION DOWNLOAD 
Open access work licensed to the public under a Creative Commons Attribution 3.0 Italia license (CC BY-NC-ND).
Opera diffusa in modalità open access e sottoposta a licenza Creative Commons Attribuzione – Non commerciale - Non opere derivate (CC BY-NC-ND), 3.0 Italia. 
The collective volume "Modern Forms of Work. A European Comparative Study" evokes the intent to embody a reflection focused on modern labour law issues from a comparative perspective. A first set of essays contains national reports on modern forms of work. The second group contains some reflections regarding critical issues on digitalization, platforms and algorithms, analysing the different facets of the galaxy of digital work. The third group of essays flows into the section entitled "new balances and workers' rights in the digital era", a crucial topic in the debate. The complex of the writings, despite the diversity of approaches and methods, reveals the existence of a dense and inexhaustible dialogue between young scholars, at European and extra-European level. The analysis of new forms of work – the offspring of transnational processes of globalization and technologization – forms a fertile ground for experimenting a transnational dialogue on which young researchers can practice with excellent results, as this small volume confirms.
eBook disponibile anche su Google Libri, Google Play, MLOL
DOI:
https://doi.org/10.13133/9788893771597