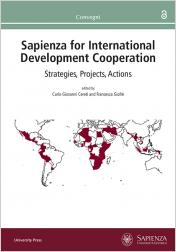 Strategies, Projects, Actions
FREE VERSION DOWNLOAD
Open access work licensed to the public under a Creative Commons Attribution 3.0 Italia license (CC BY-NC-ND).
Opera diffusa in modalità open access e sottoposta a licenza Creative Commons Attribuzione – Non commerciale - Non opere derivate (CC BY-NC-ND), 3.0 Italia.
The volume presents the interventions of the speakers and the posters of the professors of Sapienza University of Rome as evidence of the results achieved in international cooperation with a special emphasis on capacity building actions in the main geographical areas identified as: Africa, Mena countries and Latin America and Asia. The materials were presented at the University Conference "Sapienza in International Development: Strategies, Projects, Initiatives" held in Rome, at the Aula Magna of Sapienza University of Rome, on 11 December 2018 and organized with the collaboration of the Roma Sapienza Foundation.
The volume also presents in its introductory part a moment of reflection on the geographical areas of cooperation of greatest interest and strategic for Sapienza.
eBook disponibile anche su Google Play, Google Libri, MLOL
DOI:
https://doi.org/10.13133/9788893771849