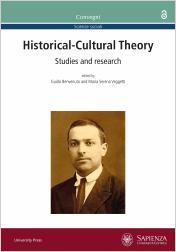 FREE VERSION DOWNLOAD
Open access work licensed to the public under a Creative Commons Attribution 3.0 Italia license (CC BY-NC-ND).
Opera diffusa in modalità open access e sottoposta a licenza Creative Commons Attribuzione – Non commerciale - Non opere derivate (CC BY-NC-ND), 3.0 Italia.
The Proceedings of the International Conference on "Historical-Cultural Theory: studies and research" are published in this volume. The event, supported by a grant from the Sapienza, University of Rome, took place at the Rectorat, Aula Organi Collegiali, on February the 25th, 2020, on organization by G. Benvenuto and M.S. Veggetti.
The invited speakers are among the most representative scholars and interpreters of Vygotskian thought at the national and international level. They are representative of different prestigious universities: Moscow State University for Psychology and Education; University of Sevilla, Spain; La Habana, Cuba; University of Florence, Italy; Sapienza, University of Rome; University of Arcavacata di Rende (CS), followers of the Historical-cultural trend in Psychology and/or the Activity Theory Approach - by L.S.Vygotskij, A.R. Lurija, A.N.Leont'ev, V.V.Davydov, V.V.Rubtzov. They are actually involved in research expanding a multicultural approach to psycho-pedagogical development and learning.
Main purpose: revisit the Historical-cultural and Activity Approaches to face the XXI century's new educational and instructional needs. Consequently, the issues present further developments of the psycho-pedagogical approaches in different countries in the frame of internationalization and joint cooperation.
eBook disponibile anche su Google Play, Google Libri, MLOL
DOI:
https://doi.org/10.13133/9788893771962