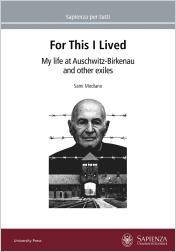 My life at Auschwitz-Birkenau and other exiles
Like so many Holocaust survivors, Sami Modiano remained silent for many years, not talking about his life, his experiences and his long journey through the twentieth century. How could he speak about such deep pain? The loss of his entire family, and his Jewish community of Rhodes wiped from the face of the earth? With the enactment of racial laws he is suddenly considered different; he wakes up as a child like many others and goes to sleep as a Jew. From that moment nothing will be the same as before. Sami is sent to Auschwitz Birkenau where he loses all his loved ones. Alone in the world, he is subjected to but does not learn to practice the language of hatred and violence. He survives and builds a new life with his wife Selma; they are an extraordinary couple united by their love for life. Several decades later, Sami's voice becomes a precious, unique testimony inspired by a question the author kept inside for a long time, a question that runs through the pages of his book: "Why did I come back alive? Why me?"
This book that has been published in Italian in various editions and reprints since 2013, now available in English, offers an extraordinary testimony to a vast international audience. A story of pain and destruction, but also a sign of hope for one who has managed to tell his story and turn his words into seeds of peace and solidarity thereby creating a path of knowledge and culture.
_____
Sami Modiano è rimasto in silenzio, senza raccontare la sua vita, la sua esperienza, il suo lungo viaggio attraverso il Novecento. Come poter dare voce a un dolore così profondo? La perdita di un'intera famiglia, la cancellazione della comunità ebraica di Rodi dalla faccia della terra? Con l'applicazione delle leggi razziali viene improvvisamente considerato un diverso, si sveglia da bambino come tanti e va a dormire come un ebreo. Da qual momento nulla sarà più come prima. Finisce ad Auschwitz Birkenau dove perde tutti i suoi affetti più cari. Rimane solo al mondo ma non conosce i linguaggi dell'odio e della violenza: riesce a sopravvivere per costruirsi una nuova vita accompagnato da sua moglie Selma. Una coppia straordinaria tenuta insieme dall'amore per vita. Diversi decenni dopo la voce di Sami è diventata una testimonianza preziosa, unica, a partire da una domanda che l'autore si è tenuta dentro per lungo tempo e attraversa le pagine del volume: «Perché sono tornato vivo? Perché proprio io?»
Questo libro che è uscito in italiano dal 2013 in varie edizioni e ristampe, oggi finalmente in inglese consegna la lettura di una straordinaria testimonianza a un vasto pubblico internazionale. Una storia di dolore e distruzione, ma anche un segno di speranza per chi è riuscito a raccontare e a far diventare la parola un seme di pace e di solidarietà, un percorso di conoscenza e cultura.
________
Also available in eBook PDF format (ISBN 9788893771986) on Torrossa Online Digital Bookstore (Casalini Libri) for 8,00 €
- Buy it on Torrossa Online Digital Bookstore