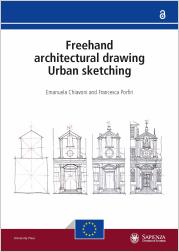 Serie:
Esperienze di Studio e Restauro in Europa
FREE VERSION DOWNLOAD
Open access work licensed to the public under a Creative Commons Attribution 3.0 Italia license (CC BY-NC-ND).
Opera diffusa in modalità open access e sottoposta a licenza Creative Commons Attribuzione – Non commerciale - Non opere derivate (CC BY-NC-ND), 3.0 Italia.
The programme objective is to provide students with the first basic tools to understand the world's Architectural Cultural Heritage.
The course teaches the methodologies for the representation of architecture and landscape and the graphic systems to communicate the beauty of typical cultural scenarios and to use traditional and innovative graphic techniques.
Students must learn not only the geometric code required to consciously represent existing and imaginary forms, but will also study in-depth the geometric, proportional and perceptive tools that will allow them to manipulate those forms.
Students will acquire the manual skills needed to become proficient in the use of the simpler and more direct graphic techniques thanks to multiple exercises in free-hand drawing and line drawing, with a particular focus on chromatic aspects.
Students will also be taught the basic notions of the Fundamentals of the Geometry of Representation.
eBook disponibile anche su Google Play, Google Libri, MLOL
DOI:
https://doi.org/10.13133/9788893772037