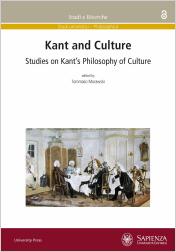 Studies on Kant's Philosophy of Culture
FREE VERSION DOWNLOAD
Open access work licensed to the public under a Creative Commons Attribution 3.0 Italia license (CC BY-NC-ND).
Opera diffusa in modalità open access e sottoposta a licenza Creative Commons Attribuzione – Non commerciale - Non opere derivate (CC BY-NC-ND), 3.0 Italia.
Kant and Culture. Studies on Kant's Philosophy of Culture is a collective volume focusing on the figure of Kant as Kulturphilosoph. The challenge of this volume, which gathers scholars who differ in language, method, approach and perspective, is to shed light from different angles on the relevance and complexity of a subject – Kant and culture – that has often been confined to the margins of the Kantforschung and has only recently received the attention it deserves. Yet, on closer inspection, the issues related to the notion of culture in Kant are so varied and at the same time so pervasive and transversal that they allow for important connections between his philosophical reflection's different areas (from aesthetics to theoretical philosophy, from ethics to philosophy of history, from philosophy of law to moral philosophy, from anthropology to religion, from geography to pedagogy), providing a privileged point of view to explore and understand his idea of a Bestimmung des Menschen. Moreover, Kant's contribution to the philosophy of culture offers important insights into its contemporary crisis, its loss of significance and interest. A starting point to try to articulate a notion of culture in a normative sense, that is, elaborated not in reference to a certain class of objects defined as cultural (education, the arts, the sciences), but formally, as a particular relationship we can establish with any object, subject or experience.
eBook disponibile anche su Google Play, Google Libri, MLOL
DOI:
https://doi.org/10.13133/9788893772167