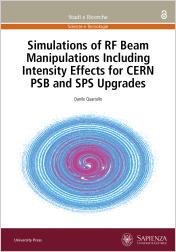 FREE VERSION DOWNLOAD
Work published in open access form and licensed under Creative Commons Attribution – NonCommercial – NoDerivatives 3.0 Italy (CC BY-NC-ND 3.0 IT).
Opera distribuita con licenza Creative Commons Attribuzione – Non commerciale – Non opere derivate 3.0 Italia e diffusa in modalità open access (CC BY-NC-ND 3.0 IT).
Winner of the Competition "Prize for PhD Thesis 2020" arranged by Sapienza University Press.
The LIU program at CERN is of paramount importance at international level. The program foresees a significant upgrade of the LHC injector chain to increase the luminosity of the LHC beam by a factor of ten after 2024, when the HL-LHC era will start. This thesis deals with longitudinal beam dynamics studies for two LHC injectors (PSB and SPS), the main goal being the analysis of beam instabilities in the HL-LHC scenario.
eBook disponibile anche su Google Play, Google Libri, MLOL
DOI:
https://doi.org/10.13133/9788893772433