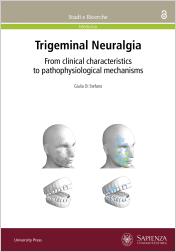 From clinical characteristics to pathophysiological mechanisms
FREE VERSION DOWNLOAD
Work published in open access form and licensed under Creative Commons Attribution – NonCommercial – NoDerivatives 3.0 Italy (CC BY-NC-ND 3.0 IT).
Opera distribuita con licenza Creative Commons Attribuzione – Non commerciale – Non opere derivate 3.0 Italia e diffusa in modalità open access (CC BY-NC-ND 3.0 IT).
Winner of the Competition "Prize for PhD Thesis 2020" arranged by Sapienza University Press.
Trigeminal Neuralgia is a unique neuropathic facial pain condition, characterized by unilateral paroxysmal pain most often described as stabbing or electric shock-like, restricted to the distribution of one or more divisions of the trigeminal nerve territory and triggered by innocuous stimuli. Trigger zones are reported in virtually the totality of patients and represent the hallmark sign of Trigeminal Neuralgia. The development and application of a dedicated software allowed trigger zone overlap profiling of the extraoral and intraoral territories. The analysis of the natural history of Trigeminal Neuralgia showed that the failure of the treatment with first-line drugs (carbamazepine and oxcarbazepine), most of the times, is not due to the inefficacy of the drug, but rather to undesired effects to a level that causes interruption of treatment or a dosage reduction to an insufficient level. These results suggest the opportunity to develop a better tolerated drug.
eBook disponibile anche su Google Play, Google Libri, MLOL
DOI:
https://doi.org/10.13133/9788893772464