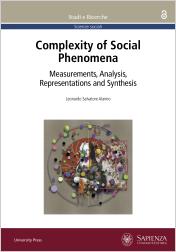 Measurements, Analysis, Representations and Synthesis
FREE VERSION DOWNLOAD
Work published in open access form and licensed under Creative Commons Attribution – NonCommercial – NoDerivatives 3.0 Italy (CC BY-NC-ND 3.0 IT).
Opera distribuita con licenza Creative Commons Attribuzione – Non commerciale – Non opere derivate 3.0 Italia e diffusa in modalità open access (CC BY-NC-ND 3.0 IT).
Winner of the Competition "Prize for PhD Thesis 2020" arranged by Sapienza University Press.
What is complexity? What are the characteristics of a complex system? What does it mean to measure? How to develop an efficient tool for measuring socio-economic phenomena?  What is synthesis? What are the main statistical tools for synthesis of multi-indicator systems? These are the research questions that are attempted to be answered in this book, the result of the author's research work during his PhD. The book offers a conceptual and methodological analysis of the topic of synthesis of complex social phenomena, also proposing interesting applications to real cases.
eBook disponibile anche su Google Play, Google Libri, MLOL
DOI:
https://doi.org/10.13133/9788893772518