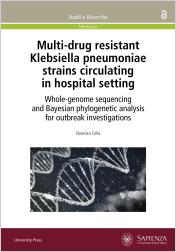 Whole-genome sequencing and Bayesian phylogenetic analysis for outbreak investigations
FREE VERSION DOWNLOAD
Work published in open access form and licensed under Creative Commons Attribution – NonCommercial – NoDerivatives 3.0 Italy (CC BY-NC-ND 3.0 IT).
Opera distribuita con licenza Creative Commons Attribuzione – Non commerciale – Non opere derivate 3.0 Italia e diffusa in modalità open access (CC BY-NC-ND 3.0 IT).
Winner of the Competition "Prize for PhD Thesis 2020" arranged by Sapienza University Press.
Carbapenems resistant Enterobacteriaceae infections are increasing worldwide representing an emerging public health problem. The application of phylogenetic and phylodynamic analyses to bacterial whole genome sequencing (WGS) data have become essential in epidemiological surveillance of MDR pathogens to discern outbreak from non-outbreak strains in both community and hospital settings.
In this study, K. pneumoniae strains circulating within different wards of university hospital were collected and WGS applied. Moreover a microbiological surveillance on duedonoscopes was performed to evaluate their reprocessing. The aim was to infer the origin and the spread of K. pneumoniae nosocomial strains and to clarify the epidemiological transmission as so as the eventual reservoir in the hospital setting supporting the epidemiological surveillance and infections control strategies.
eBook disponibile anche su Google Play, Google Libri, MLOL
DOI:
https://doi.org/10.13133/9788893772440