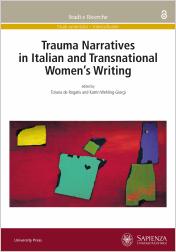 FREE VERSION DOWNLOAD
Work published in open access form and licensed under Creative Commons Attribution – NonCommercial – NoDerivatives 3.0 Italy (CC BY-NC-ND 3.0 IT)
Opera distribuita con licenza Creative Commons Attribuzione – Non commerciale – Non opere derivate 3.0 Italia e diffusa in modalità open access (CC BY-NC-ND 3.0 IT)
This edited volume is the first to propose new readings of Italian and transnational female-authored texts through the lens of Trauma Studies. Illuminating a space that has so far been left in the shadows, Trauma Narratives in Italian and Transnational Women's Writing provides new insights into how the trope of trauma shapes the narrative, temporal and linguistic dimension of these works. The various contributions delineate a landscape of female-authored Italian and transnational trauma narratives and their complex textual negotiation of suffering and pathos, from the twentieth century to the present day. These zones of trauma engender a new aesthetics and a new reading of history and cultural memory as an articulation of female creativity and resistance against a dominant cultural and social order.
Also available on Google Play, Google Libri, MLOL
DOI:
https://doi.org/10.13133/9788893772556