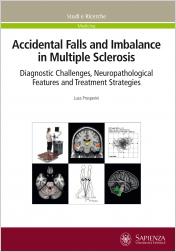 Diagnostic Callenges, Neuropathological Features and treatment Strategies
Questo libro ha vinto il "Premio Tesi di Dottorato sulla Disabilità", istituito dalla Sapienza Università di Roma, nell'edizione 2014.
Multiple sclerosis is the leading cause of progressive neurological disability in young-adult people. Balance disorders and accidental falls are among the most disabling symptoms for patients with multiple sclerosis, with a major burden for health service and society.
Emerging issues in this field are addressed in the present dissertation, including the use of computer-based systems for balance assessment, the neuro-pathological features underlying the deficit
of postural control (investigated with advanced neuroimaging techniques), and some innovative rehabilitation approaches based on virtual reality and video games.