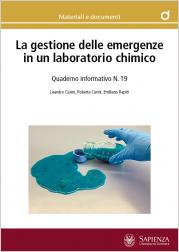 Quaderno informativo N. 19
FREE VERSION DOWNLOAD 
Open access work licensed to the public under a Creative Commons Attribution 3.0 Italia license (CC BY-NC-ND).
Opera diffusa in modalità open access e sottoposta a licenza Creative Commons Attribuzione – Non commerciale - Non opere derivate (CC BY-NC-ND), 3.0 Italia
Questa pubblicazione, mirata ai laboratori universitari, ma utile per qualsiasi tipo di laboratorio chimico, intende fornire uno strumento sintetico e completo che permetta a chi gestisce un laboratorio, e a chi semplicemente lo utilizza, di mettere in atto tutto quanto possibile per prevenire le emergenze, contenere in fase preventiva i possibili danni derivanti da un evento indesiderato e gestire l'emergenza a partire dal suo insorgere, fino alle attività di prevenzione incendi, primo soccorso e gestione delle attività di bonifica. Ci auguriamo che questo tascabile possa divenire un utile riferimento operativo per tutti quelli che frequentano laboratori chimici.
eBook disponibile anche su Google Play, Google Libri, MLOL
DOI:
https://doi.org/10.13133/9788893770101