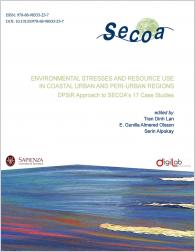 DPSIR Approach to SECOA's 17 Case Studies
FREE VERSION DOWNLOAD 
Open access work licensed to the public under a Creative Commons Attribution 3.0 Italia license (CC BY-NC-ND).
Opera diffusa in modalità open access e sottoposta a licenza Creative Commons Attribuzione – Non commerciale - Non opere derivate (CC BY-NC-ND), 3.0 Italia
This book is one of the outputs from the EU FP7 research project SECOA, Solutions for Environmental Contrasts in Coastal Areas, working in the period December 20019 – 1 December 2013. In the project participated five countries from EU and three partners are from outside Europe. The main goals of the project were to analyze conflicts on resource use in urban, coastal areas with special emphasis on urbanization and mobility and in the context of global environmental changes. One of the work packages in the project was dedicated to work on Environmental stresses on the natural resources in the urban coastal context. The work package on Environmental stresses and resource use for sustainable development was led by Dr Tran Dinh Lan. Specific studies on this theme was performed by the partners as 17 case studies, two (one country had three) per country, which yielded a large data set presented in this volume. The case studies were all first written as national reports and were also compiled in a project deliverable, D2.2.
eBook disponibile anche su Google Play, Google Libri, MLOL
DOI:
https://doi.org/10.13133/978-88-98533-23-7