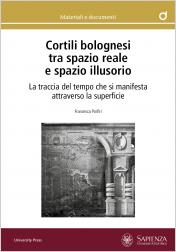 La traccia del tempo che si manifesta attraverso la superficie
FREE VERSION DOWNLOAD 
Open access work licensed to the public under a Creative Commons Attribution 3.0 Italia license (CC BY-NC-ND).
Opera diffusa in modalità open access e sottoposta a licenza Creative Commons Attribuzione – Non commerciale - Non opere derivate (CC BY-NC-ND), 3.0 Italia.
I fondali illusori scenografici dipinti nei cortili dei palazzi storici bolognesi tra il XVII e il XIX secolo, un tempo maestose opere pittoriche a scala urbana dove l'artificio della prospettiva ingannava l'occhio dell'osservatore invitandolo ad esplorare lo spazio architettonico – perfetto connubio fra architettura reale e dipinta –, oggi sono ormai ridotte allo stato di rudere. Tra di esse si propone un progetto di studio e valorizzazione applicato al cortile dipinto di Palazzo Vizzani, opera di Antonio Galli Bibiena. La volontà di percorrere nuove modalità narrative ed espressive permette di ristabilire il dialogo tra tradizione e tecnologia, con lo scopo di definire un'inedita interpretazione, materica ed emozionale, di un'opera senza tempo.
eBook disponibile anche su Google Play, Google Libri, MLOL
DOI:
https://doi.org/10.13133/9788893770910