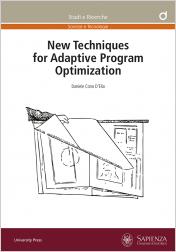 FREE VERSION DOWNLOAD 
Work published in open access mode and licensed under Creative Commons Attribution – NonCommercial – NoDerivatives 3.0 Italy (CC BY-NC-ND 3.0 IT).
Opera diffusa in modalità open access e sottoposta a licenza Creative Commons Attribuzione – Non commerciale - Non opere derivate (CC BY-NC-ND), 3.0 Italia.
Winner of the Competition "Prize for PhD Thesis 2016"
arranged by Sapienza University Press.
Living organisms are adapted to their environment. Modern compilers and runtime systems for computer software are no different: as part of a continuous optimization process, they can adapt the execution cycle of a program to the workload it operates on. 
This thesis brings novel ideas to the software optimization domain. It illustrates methodological and practical contributions that advance the state of the art for performance profiling techniques and adaptive runtime designs, backed by promising experimental results on industrial-strength benchmarks. Part of the results has been presented in flagship programming language venues.
eBook disponibile anche su Google Play, Google Libri, MLOL
DOI:
https://doi.org/10.13133/9788893771436