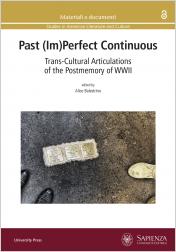 Trans-Cultural Articulations of the Postmemory of WWII
Serie:
Studies in American Literature and Culture
FREE VERSION DOWNLOAD
Open access work licensed to the public under a Creative Commons Attribution 3.0 Italia license (CC BY-NC-ND).
Opera diffusa in modalità open access e sottoposta a licenza Creative Commons Attribuzione – Non commerciale - Non opere derivate (CC BY-NC-ND), 3.0 Italia.
Past (Im)perfect Continuous. Trans-Cultural Articulations of the Postmemory of WWII presents an international and interdisciplinary approach to the comprehension of the postmemory of WWII, accounting for a number of different intellectual trajectories that investigate WWII and the Holocaust as paradigms for other traumas within a global and multidirectional context. Indeed, by exceeding the geographical boundaries of nations and states and overcoming contextual specificities, postmemory foregrounds continuous, active, connective, transcultural, and always imperfect representations of violence that engage with the alterity of other histories and other subjects. 75 years after the end of WWII, this volume is primarily concerned with the convergence between postmemory and underexamined aspects of the history and aftermath of WWII, as well as with several sociopolitical anxieties and representational preoccupations.
Drawing from different disciplines, the critical and visual works gathered in this volume interrogate the referential power of postmemory, considering its transcultural interplay with various forms, media, frames of reference, conceptual registers, and narrative structures.
eBook disponibile anche su Google Play, Google Libri, MLOL
DOI:
https://doi.org/10.13133/9788893771832