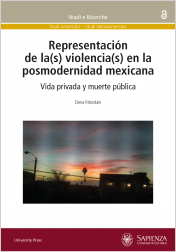 Vida privada y muerte pública
FREE VERSION DOWNLOAD
Open access work licensed to the public under a Creative Commons Attribution 3.0 Italia license (CC BY-NC-ND).
Opera diffusa in modalità open access e sottoposta a licenza Creative Commons Attribuzione – Non commerciale - Non opere derivate (CC BY-NC-ND), 3.0 Italia.
¿Cómo representar, desde la frontera entre México y Estados Unidos, las múltiples formas de violencia interseccional? La autora analiza un corpus de obras de escritores de Tijuana y estudia cómo la violencia estructural, económica y política se solapa en ellas con la dimensión privada y de género. A través de un diálogo con la crítica feminista, las teorías poscoloniales y los estudios culturales, halla núcleos temáticos y estrategias formales situadas en el entorno fronterizo, pero capaces de abrir debates con perspectivas e investigaciones que se han impuesto a nivel internacional.
eBook disponibile anche su Google Play, Google Libri, MLOL
DOI:
https://doi.org/10.13133/9788893771900