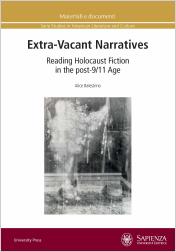 Reading Holocaust Fiction in the post-9/11 Age
Serie:
Studies in American Literature and Culture
This book examines a selection of Holocaust-related narratives published in the US in the wake of 9/11. This analysis focuses on narrative strategies – such as alternate history, autofiction, and unnatural temporality – which make these texts "extra-vacant," meaning particularly apt to expose and critically engage the epistemological and ontological vacuum at the core of the state fantasy of Ground Zero, understood as the latest phase of the rhetorical tradition of American Exceptionalism. Operating within a postmemorial and multidirectional framework, these texts set at critical play Holocaust memory and 9/11 remembrance, effectively reversing the ideological construction of these events as mutually exceptionalist. Works by Michael Chabon, Jonathan Safran Foer, Art Spiegelman, and Philip Roth are read through a biopolitical lens: this interpretive method for reading post-9/11 Holocaust fiction questions the hegemonic capital of US Holocaust and 9/11 memory from within, because the extra-vacant approach at once embraces and disputes the correlation between 9/11 and the Holocaust.
________
Also available in eBook PDF format (ISBN 9788893772051) on Torrossa Online Digital Bookstore (Casalini Libri) for 7,00 €
- Buy it on Torrossa Online Digital Bookstore