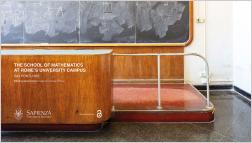 FREE VERSION DOWNLOAD
Open access work licensed to the public under a Creative Commons Attribution 3.0 Italia license (CC BY-NC-ND).
Opera diffusa in modalità open access e sottoposta a licenza Creative Commons Attribuzione – Non commerciale - Non opere derivate (CC BY-NC-ND), 3.0 Italia.
The School of Mathematics is a masterpiece of the early 1930s by Gio Ponti, who is today regarded as a master of Italian Modernism. Although World War II bombings shattered the coloured stained-glass window that once adorned the balanced and harmonious white travertine façade, the building remains a striking and significant piece of architecture. Although it underwent a series of transformations over the years before its historical and artistic relevance was recognised, it can still be appreciated and admired for its magnificent expressivity. Its uniqueness derives from its complexity, such as is often found in Italian monuments of all ages: a rare synthesis of urban design, architecture, art, industrial design, historical archives and – perhaps the first of its kind – scientific production in the field of mathematics.
This illustrated report is a synopsis of the extensive technical research documents produced by the research team for each step of the work. It is also a premise for the conservation management plan proposed at the end of the full report. As in any area of science, knowledge is at the basis of future action: we need to understand today how to take care of the historical buildings of our campus tomorrow – buildings recognised worldwide as architectural and historical monuments.
Also available on Google Libri, Google Play, MLOL
DOI:
https://doi.org/10.13133/9788893772334