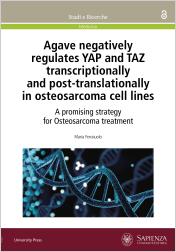 A promising strategy for Osteosarcoma treatment
FREE VERSION DOWNLOAD
Work published in open access form and licensed under Creative Commons Attribution – NonCommercial – NoDerivatives 3.0 Italy (CC BY-NC-ND 3.0 IT).
Opera distribuita con licenza Creative Commons Attribuzione – Non commerciale – Non opere derivate 3.0 Italia e diffusa in modalità open access (CC BY-NC-ND 3.0 IT).
Winner of the Competition "Prize for PhD Thesis 2020" arranged by Sapienza University Press.
Osteosarcoma (OS) is the most aggressive type of primary solid tumor that develops in bone. Whilst conventional chemotherapy can improve survival rates, the outcome for patients with metastatic or recurrent OS remains poor, so novel treatment agents and strategies are required. Previously published works indicate that Agave exhibits anticancer properties. In the present study, anticancer effects of Agave leaf extract were investigated in the OS cells, discovering that Agave inhibits cell growth and cell migration, and sensitizes OS cells to cisplatin (CDDP), to overcome chemoresistance. Agave's mechanisms of action include an initial process in which Agave induces YAP/TAZ oncogenic protein degradation, followed by a secondary event whereby Agave inhibits YAP/TAZ transcription through NF-κB p65:p50 heterodimers deregulation.
eBook disponibile anche su Google Play, Google Libri, MLOL
DOI:
https://doi.org/10.13133/9788893772457