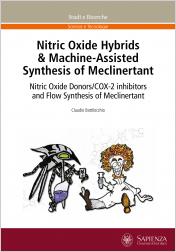 Nitric Oxide Donors/COX-2 inhibitors and Flow Synthesis of Meclinertant
Winner of the Competition "Prize for PhD thesis 2015"
In his work, Claudio Battilocchio reports two main themes (or concepts) frequently associated with the changes and demands of our modern society. 
The first concept deals with the idea of administering one "compound" which acts upon multiple targets. Nitric oxide (NO) plays important roles in the overall homeostasis of the human organism and if hybridised with specific COX-2 inhibiting scaffolds, it may tune the pharmacodynamic properties of these new compounds to reduce the potential side effects. 
The ultimate goal of this approach is to generate a class of compounds, pain relieving drugs COX-2 inhibitors, without having to deal with the side effects.
The second concept is associated with contemporary industrial demands, which require modern technologies to assist in chemical processes. The first machine-assisted synthesis of Meclinertant (SR 48692) is reported as a proof-of-concept for the future directions of chemical synthesis. A future where machines will be relegated to simple and routine operations. 
A future where chemists will focus just on the planning of chemical processes: a machine-assisted future.