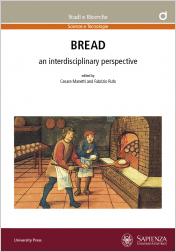 an interdisciplinary perspective
FREE VERSION DOWNLOAD 
Open access work licensed to the public under a Creative Commons Attribution 3.0 Italia license (CC BY-NC-ND).
Opera diffusa in modalità open access e sottoposta a licenza Creative Commons Attribuzione – Non commerciale - Non opere derivate (CC BY-NC-ND), 3.0 Italia
Bread contains human knowledge: from knowledge concerning fertility of the land to farming methods harvesting, and seed processing, not to mention the different possibilities of consumption of cereals and the different ways in which they are cooked.
In bread, we find all those components: the transformation of the natural landscape, technological and economic development which over the centuries have led to the building of a social organization, with a precise division and distribution of tasks and roles.
eBook disponibile anche su Google Play, Google Libri, MLOL
DOI:
https://doi.org/10.13133/9788893770163