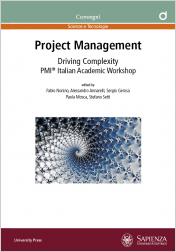 Driving Complexity. PMI® Italian Academic Workshop
FREE VERSION DOWNLOAD 
Open access work licensed to the public under a Creative Commons Attribution 3.0 Italia license (CC BY-NC-ND).
Opera diffusa in modalità open access e sottoposta a licenza Creative Commons Attribuzione – Non commerciale - Non opere derivate (CC BY-NC-ND), 3.0 Italia.

Contemporary organizations are undertaking increasingly complex projects in globalized, uncertain and dynamic environments. Proliferation of international programs, growing and challenging sophistication of technologies and of projects' scope, and the increasing number of stakeholders are only some of the factors that increase or generate project complexity. Enhancing the understanding of what project complexity is and delineating the antecedents that increase or generate complexity can be fundamental steps towards the identification of drivers that cause complexity and consequences for project management performance.
The PMI® Italian Academic Workshop, organized in 20-21 September 2018 by Sapienza University of Rome and the three Italian Chapter of the Project Management Institute, has been an event aimed at supporting participants to develop their researches to a further stage through in-depth discussions on the topic of project complexity.
In collaboration with the PMI® Italy Chapters.

eBook disponibile anche su Google Play, Google Libri, MLOL
DOI:
https://doi.org/10.13133/9788893770866