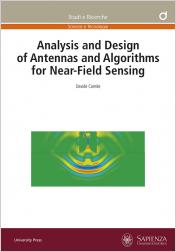 FREE VERSION DOWNLOAD 
Work published in open access mode and licensed under Creative Commons Attribution – NonCommercial – NoDerivatives 3.0 Italy (CC BY-NC-ND 3.0 IT).
Opera diffusa in modalità open access e sottoposta a licenza Creative Commons Attribuzione – Non commerciale - Non opere derivate (CC BY-NC-ND), 3.0 Italia.
Winner of the Competition "Prize for PhD Thesis 2016"
arranged by Sapienza University Press.
This volume collects the main results of the Author's Ph.D. course in Electromagnetics and Mathematical Models for Engineering, attended at 'Sapienza' University of Rome from November 2011 to February 2015, in the Electromagnetic Fields 1 Lab of the Department of Information Engineering, Electronics and Telecommunications, under the tutoring of Prof. Alessandro Galli.
eBook disponibile anche su Google Play, Google Libri, MLOL
DOI:
https://doi.org/10.13133/9788893771429